Is BigBlueButton 2.4 safe to upgrade now?
Bob Teng
Blog
Affichages : 4179
The latest version of BigBlueButton was released on December 20th, 2021. The first edition is 2.4.0. After a month of working, the most recent version is 2.4.2. Is it okay to upgrade now? Let's have a look at this topic in more detail.
BigBlueButton 2.4
BigBlueButton 2.4.0 is the official release of the new version of BigBlueButton. Which has taken approximately 8 months to produce and comprises 1700 commits. There were two alpha releases, four beta versions, and seven release candidates before this version was released.
You may discover more at this link about the first release.
Even if it's a fully supported version for commercial use, there are still some minor bugs.
If you want to keep track of the bugs reported for BigBlueButton 2.4, visit this link.
Mynaparrot is a BigBlueButton hosting service provider leader. We didn't upgrade to the official version right away. Since, as we've said before, online education's first concern is stability. There is no meaning to use the new BigBlueButton capabilities if there is no steady performance.
After a month of testing, we're ready to upgrade the version to BigBlueButton 2.4. Our clients will be able to use the new capabilities of BigBlueButton 2.4 shortly.
More appealing new features
Let's have a look at the more appealing new features of BigBlueButton 2.4.
Feature 1:The Learning Analytics Dashboard
The Learning Analytics Dashboard, a live dashboard that provides educators with data to better identify who is struggling or excelling in their class, is included in BigBlueButton 2.4. The following are some of the measures available through the Learning Analytics Dashboard:
The total number of students, their names, and the precise length of time they've been in class are all recorded.
To make it simpler to determine which students are active or inactive, we'll provide you with the average activity score for each student (out of 10). Attendance, talking time, chat, raising hands, emoticons, and other in-class activities are all accounted for in the activity score.
A comprehensive overview of all the poll results, which are based on your surveys regarding the material, will allow you to quickly see whether or not the class – as well as individual students – is comprehending it.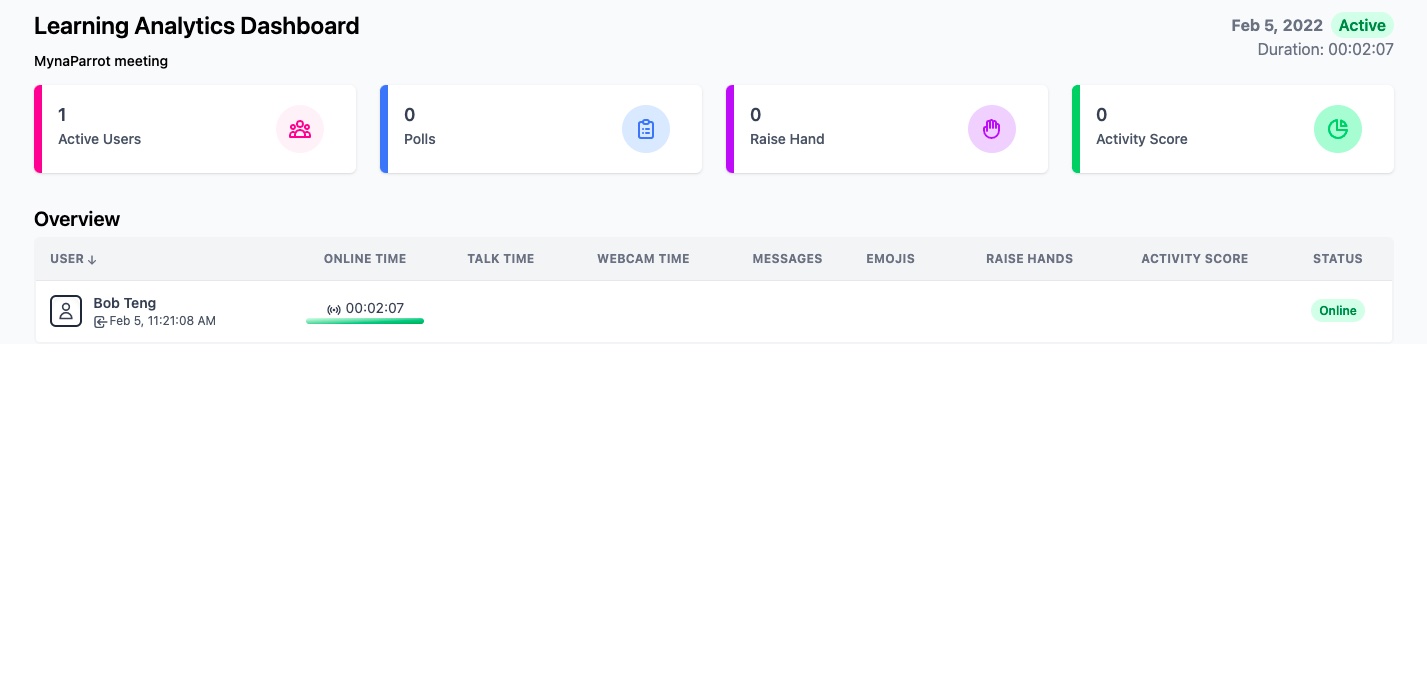 The Learning Analytics Dashboard is designed so that you can access information while the class is still going on (not as a static report after the class has ended). The Learning Analytics Dashboard, like a co-pilot assisting the pilot in flight, provides real-time data all throughout your course to assist you in focusing on teaching remote students.
Features 2:Push layout to all.
This is also a useful and time-saving function for online courses. Since an online classroom is primarily used to instruct rather than socialize, instructors will have something that students must attend to at all times.
With this feature, teachers can use a "push layout to all" on a specific topic. This feature allows teachers to concentrate students' attention in a specific area of the board without being interrupted by other activities going on outside that area.
Four layouts available
Custom layout
Smart layout
Focus on presentation
Focus on video
Feature 3:Virtual background
This is a highly desired feature for bigbluebutton users, and now it's available.
Before we have another post to show you how to change the bigbluebutton meeting camera background. The most recommended solution is to use third-party software. It works, but if it were built-in features, it would be more convenient for consumers.
There is currently no way for a user to upload his or her own background image. The only option is to pick from the server's available backdrops.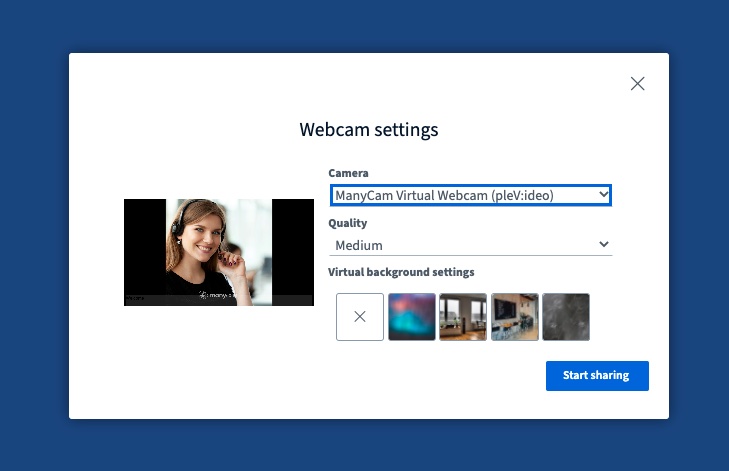 In this article, we just share the three most appealing new features BigBlueButton 2.4. We would be glad to hear your opinions and suggestions on any problems you encounter when using this version of BigBlueButton.
You can find a lot more cool new features on this web page
Conclusion
After one month of working, the BigBlueButton becomes more stable. We are planning to upgrade our BigBlueButton version to the latest BigBlueButton 2.4.
To ensure the stability of the MynaParrot BigBlueButton service, we are working to upgrade our servers step by step. If you want to use it earlier, please contact us via support ticket and we will try our best to make the arrangements for you.