Need help with the
BigBlueButton
platform?
We provide 1
st
 class support for all your h
osting, 
m
aintenance
,
and
i
ntegration
 needs.
BigBlueButton
More features than
BigBlueButton
Start
organizing your conferences or e-learning modules today with our feature-rich platform
.
BigBlueButton
BigBlueButton Premium Hosting
✓
Ready to use in minutes and free to test.
✓
Scalable to any number of users with our self-developed load balancer system.
✓
Easy to integrate with Moodle, Chamilo, Joomla, WordPress and other systems.
✓
Extended features like MP4 recordings, analytical user reports, live broadcasting to YouTube and Facebook.
BigBlueButton
✓
We provide services for BigBlueButton hosting and maintenance, so you don't have to sort through the server configurations as well as the ongoing maintenance. We have a dedicated team working on it to give you as much flexibility as possible when using the BigBlueButton services.
✓
With our pay as you go BigBlueButton service, you can start with a small budget and use it for a few months while we do the rest of the work. All of the original plugins, such the Moodle or other LMS plugins, can still be used with our platform.
✓
Best of all, we have an API available for integration with any system that doesn't have the original BigBlueButton plugin.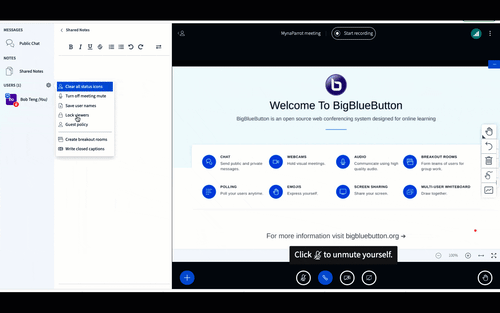 All BigBlueButton Features
✓
Whiteboard, break-out rooms, chat, videos, note sharing, polling, etc.
✓
Increase engagement of your students during online class using multi-whiteboard & break-out rooms features.
✓
Integration of VoIP telephone number on request so that user can join by regular phone call.
✓
We haven't limited any features from the original BigBlueButton.
Monitoring Board
✓
Overview of all session logs including general meeting information, such as join time and joined users, which can be viewed offline or while the session is live.
✓
If it is during a live session, you can check for further details about the joined users.
✓
You can create a performance report based on the MynaParrot report to easily asses your online class.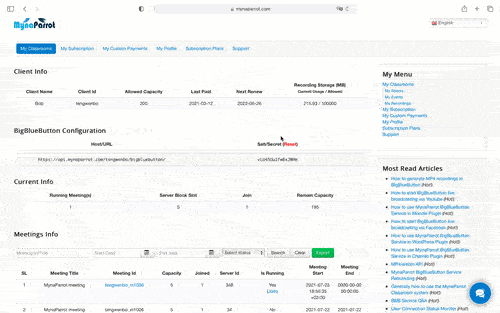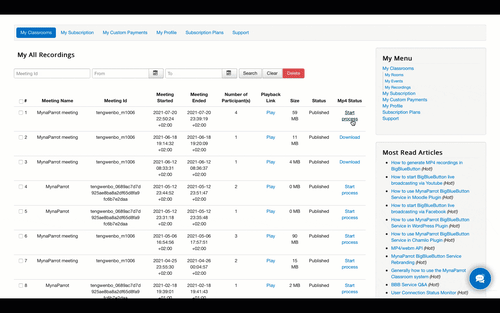 MP4 / WebM recordings
✓
Convert your BigBlueButton recordings to MP4 / WebM video file in one click.
✓
Upload it to YouTube or share with your audience as a single MP4 / WebM video file.
✓
Your recorded classes can easily be backed up on your local computer
RTMP Live Broadcasting
✓
Widen your audience by using our RTMP feature to broadcast your live session to YouTube and Facebook or any other live streaming platforms
✓
Remove the restriction of BigBlueButton's capacity limitation per room user.
✓
Improve the performance of your online classroom in an one-to-many mode with an unlimited number of participants.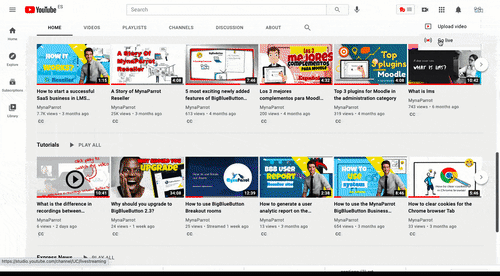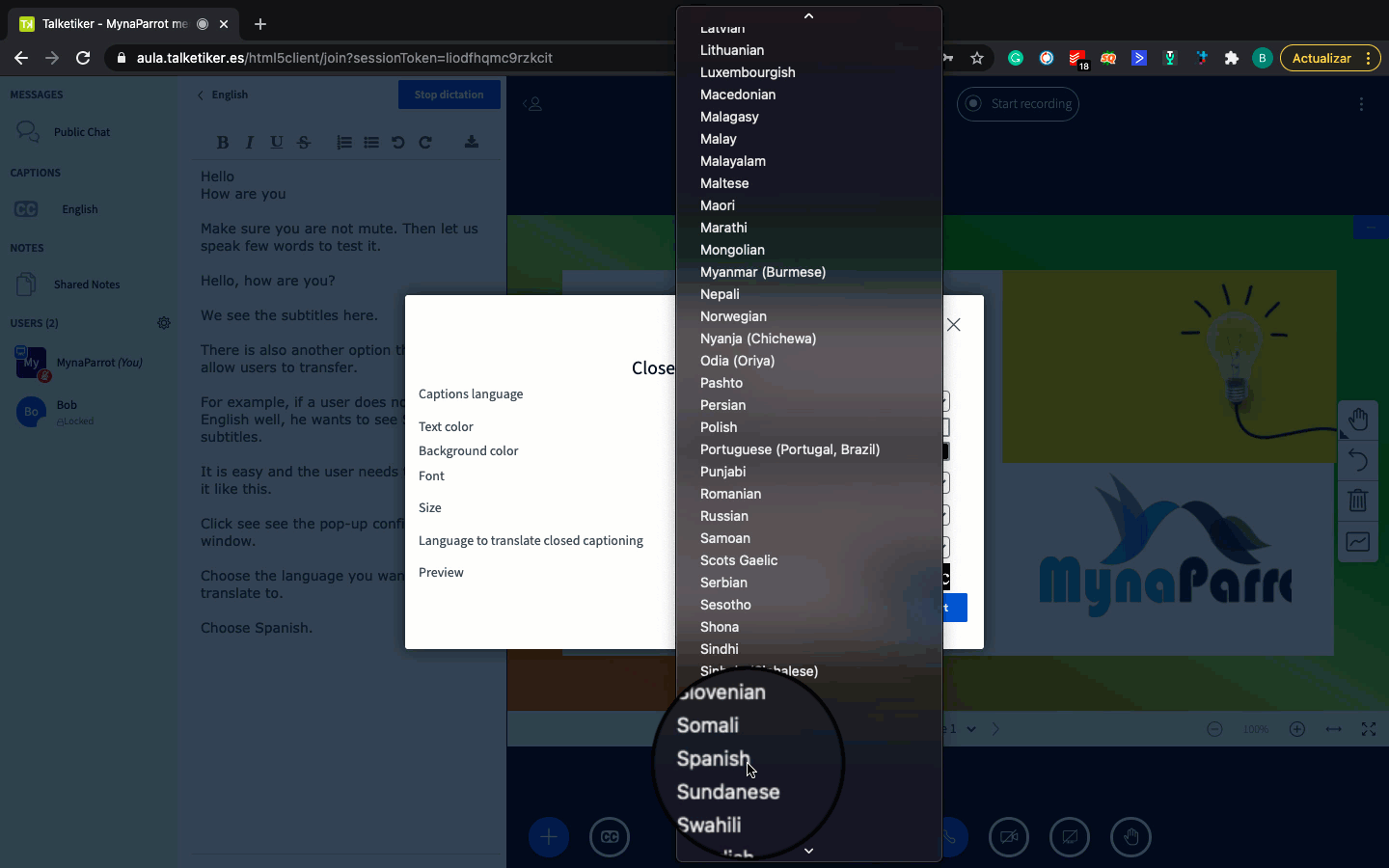 Live Captioning and Translation
✓
Increase your classroom's comprehension rate by turning on the captioning features.
✓
Auto-translation will help you break the language barrier, so everyone is included.
Live Exam
✓
Easily hold a live exam with your students and synchronise all user data on the same page.
✓
Improve the interactivity of your online class with interactive content such as games and quizzes.